A company's orientation towards continuous improvement and its openness to the future are based on trust in its employees and attention to their training.
In a world where changes occur extremely quickly, it is essential to be flexible and willing to invest in new human resources, sharing and increasing their knowledge and skills and instilling in them the importance of working in synergy to achieve common goals.
With this in mind, ISOIL Industria strengthens its staff and welcomes five new hires: one figure in ISOTHERMIC, two in ISOCONTROL, two in the foreign sales department. 
Last Friday 2 July last, the new employees were conducted on a visit to the LiBRA LAT 237 calibration laboratory (Accredited and compliant with the UNI EN ISO / IEC 17025 standard for the calibration of measuring instruments in volume, range in volume, mass flow and total mass) and to the production plants of the magnetic ISOMAG and ISOFLUX flow meters, at the Hemina Spa headquarters in Montagnana (PD).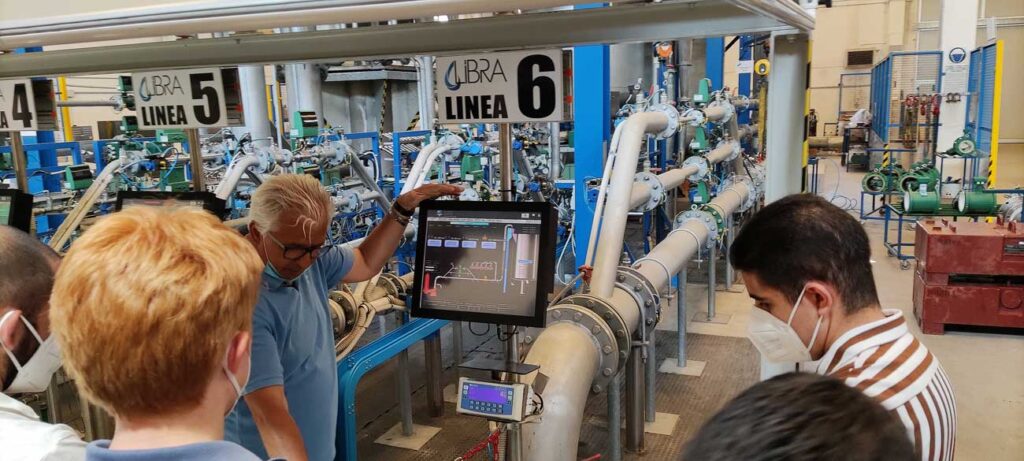 Stefano Frigo, responsible for the production site, after a short briefing in the meeting room, during which he explained the origin and mission of the company, accompanied the new hires through a journey in stages along the production chain, explaining in detail both the materials chosen for the realization of the instruments and the various coatings that are applied on them according to the needs of each customer.
After having also presented the department where the instruments electronics are tested, the day ended with a visit to the LIBRA calibration lines (the Laboratory currently includes 8 calibration lines which make it one of the largest in Europe and which guarantee the possibility of calibrating instruments from DN3 to DN3000, for a flow rate range from 0.0036 l/s to 4000 l/s.).
The visit then continued to the piezometric tower (45m in height)  and to the tank of water (with a capacity of 600 m3 meters) that allows the gauges to be calibrated by gravity.